History Department
Misc. Department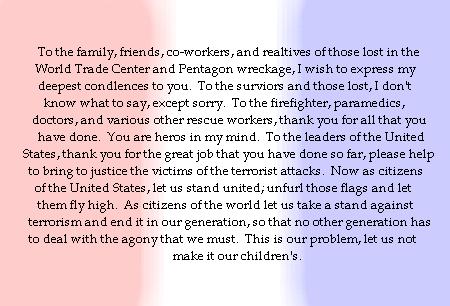 This week's country of the week is
Welcome to my new page. Well, it isn't really new, just reorganized. If you're looking for the stories, look up. The stories have been moved, so that this page is devoted to history. The history section, itself, has been divided up into three sections. The kids, is designed for child in grade school. It is filled with fun and exciting history that is safe for kids to read. There are also fun games and puzzles; things that make it fun to learn history. The serious searching is designed for people in high school and above, for those in a rush to find what they need, or those who hate to wait on things to download. Everything is presented is a very formal way and very dull, thereby making it possible to fall asleep at the computer. Lastly is the just looking page. This page actually has the same information as the serious one, it just makes things more interesting and takes a little longer to download. Things are humorous and wild.
Now, while I have hopefully peeked your interest in my site, please stop and take time to honor those who have fought for our right to live free and pay a tribute to those who made today possible.
Now that you are finished looking at that, you probably want to know where everything went to and why it's all rearranged. Well, this has kind of been in the works for a while and I finally decided to change the page. If you really liked the countries section, that is still here. The stories are also still here. But both are kind of their own pages, if that makes any sense. This is the page the links all of those together. The history as you can see is divided up into three sections, depending own your search methods. Well have fun, come back, tell your friends, and please sign my guest book.
You are the
th person to pass through
Please, please sign my guest book. I have only had one person sign it.